On the 23rd of July 1892 a child was born
to Ras Makonnen and Wayzaro Yashimabet of the Ethiopian province of Harar. His father was a mighty ambassador and cousin of the Ethiopian Emperor Menelik II. The child was named Tafari Makonnen and his birth was the fulfillment of the prophecy being a direct descendant of the ancient line of David and Solomon and Queen Makeda of Ethiopia.

From his earliest days as a youth, the young Tafari showed and displayed knowledge far beyond his tender years. All who came in contact with him marvelled at his excellence in judgment. His knowledge and insight was such that from an early age he was instrumental in the shaping of Ethiopian destiny bringing this ancient kingdom to embrace the modern world that had now emerged around her.
Active as governor of his own city of Harar when he was only 19, the young Ras Tafari continued to rise and in 1916 was subsequently made Prince Regent and heir to the Throne of Ethiopia with Empress Zauditu, daughter of Emperor Menelik II, as head of state.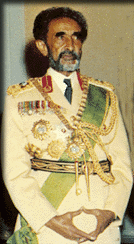 At the age of 38 Ras Tafari ascended the throne of Ethiopia becoming Emperor Haile Selassie I, meaning Power of the Holy Trinity, and the 225th Emperor of Ethiopia directly from the Solomonic line of Kings. He also received the titles of King of Kings, Elect of God, Conquering Lion of the Tribe of Judah, and Light of the World.
His Imperial Majesty is the victor over Italian Fascism in 1941 and his works in championing the cause of African Brotherhood has made him the father figure of African Unity. His Imperial Majesty is internationally acclaimed as one of the greatest world statesmen of the twentieth century and his works for the integrity of mankind, equal rights and justice are unparalleled.
He alone is the uniting force for the millions of Africans taken away into slavery and scattered in the four corners of the earth and from the time of His Coronation, He was observed to be the returned Messiah by those who now bear his name RASTAFARI.
I and I of the Rastafari faith observe Emperor Haile Selassie I in his full glory as the Almighty on earth in the flesh of Man.
(edited from "Year of the Creator" 1992 Centenary of His Majesty)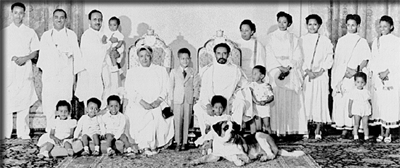 HIM and Empress with the royal family